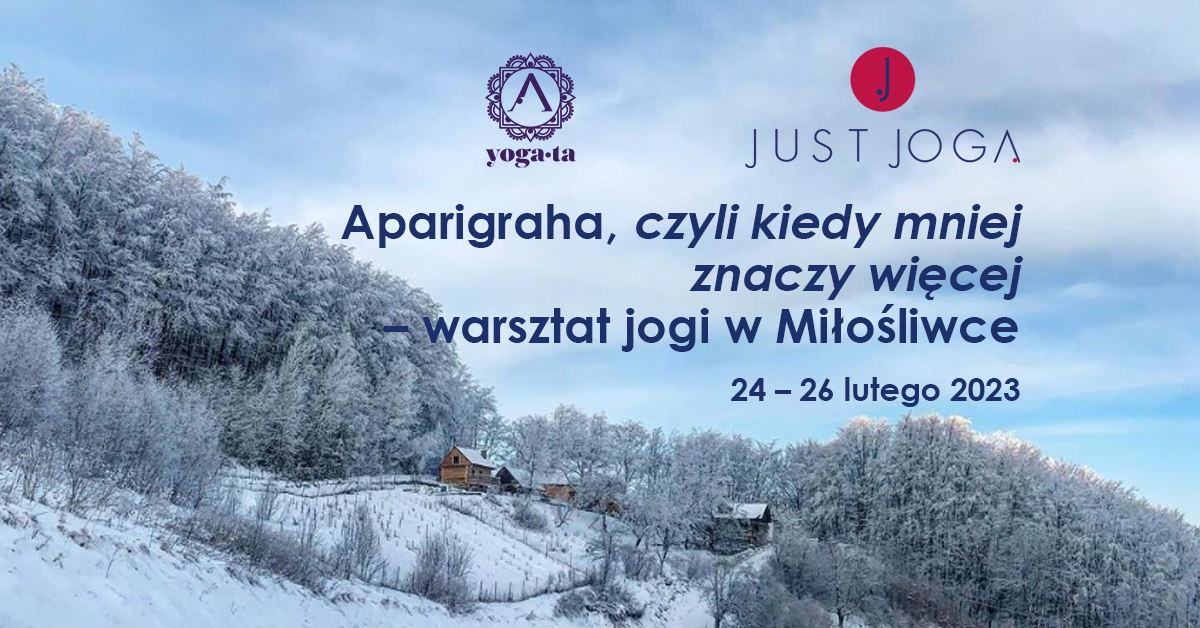 Aparigraha, czyli kiedy mniej znaczy więcej- warsztat jogi
Chata Miłośliwka to miejsce, które powstało z miłości do natury, do przestrzeni i do ludzi- tak piszą o swoim domu jego właściciele. To urocze siedlisko położone na wzgórzu, otoczone sadem, oddalone jest od cywilizacji na tyle, by móc zatrzymać się, odpocząć i zachwycić otaczającym światem przyrody i ciszy.
Do Miłośliwki dotrzemy spacerem, ok 20 min, samochody zostawimy na dole, u sąsiada. Do naszej dyspozycji będzie chata, spichlerz i nowoczesna stodoła, dwa salony, dwa tarasy, dwie kuchnie. Praktykować będziemy w wyposażonej sali warsztatowej. Będziemy mieszkać w pokojach 3, 4 i 5 osobowych z dostępem do wspólnych łazienek. Gospodarze przygotują dla nas wegetariańskie i wegański posiłki, a przez cały dzień dostępna będzie gorąca kawa i herbata.
Informacje
Dojazd 
Dojazd we własnym zakresie.
Plan wyjazdu
W piątek, 24 lutego, przywitamy się sesją praktyki jogi o 17.30.
W sobotę i niedzielę odbędą się dodatkowo 4 sesje jogi, 1,5 h każda. Dokładny program i godziny praktyki przedstawimy bliżej wyjazdu.
Koszt
Koszt warsztatu za osobę: 870 zł (5 sesji jogi, 3 wegetariańskie posiłki dziennie, noclegi).
Zaliczka w wysokości 300 zł płatna do 31 stycznia 2023.
Zapisy:
Justyna Naborczyk, T: 668 377 774, info@justjoga.pl
Agata Rozkocha, T: 570 776 339, biuro@yogata.pl
W przypadku rezygnacji do dwóch tygodni przed warsztatem nie zwracamy zaliczki.